Choose a topic or scroll down to explore
How can I use the tracker?
1) Click on the yellow highlighted text below to see annotations based on media reports, legal precedents, interviews, research studies and national police directives.
2) Sign up or sign in to Genius (creating an account takes a minute or less) and highlight any text to comment or add your own annotations—no download required.
Rebuilding Trust Between CPD and the Residents of Chicago:
Implemented
Investing in 911 Call Taker training (PATF pp. 118-119): In response to recent incidents, OEMC is implementing new training for all 911 call takers and dispatchers to improve their interactions and deliver the best service possible to the public. Once training is completed, employees will be subject to progressive discipline for rude or unprofessional behavior. OEMC will also train for all 911 dispatchers on properly responding to and dispatching CIT-certified officers to scenes involving a mental health crisis.
 
Expanding Homicide Crisis Response and Recovery Model (PATF p. 128): The Chicago Department of Public Health (CDPH) and CPD have partnered with Chicago Survivors to dispatch trained civilian responders to provide immediate response and support to family members of homicide victims, with ongoing services for up to six months. The City has expanded that pilot city wide for every homicide.
 
Addressing Bias and Cultural Differences Through Training (PATF pp. 55-56): On his first day in office, Superintendent Johnson committed to connecting all new recruits to Chicago youth of different cultures and races through restorative justice methods. Building off a successful partnership with the YMCA called Bridging the Divide, CPD officers are being trained in restorative justice methods to discuss race, bias, perception and cultural difference in a safe environment. The first police officers participated in this expanded training at Marshall High School on April 15th; additional trainings will be scheduled in the coming weeks.
 
Community Education Campaign (PATF pp. 119-120): As part of the new Steering Committee to address law enforcement crisis response, the Chicago Department of Public Health is partnering with mental health practitioners to design a community education campaign to help residents recognize the symptoms of mental illness and inform them how best to respond to mental health crisis, including seeking help or emergency assistance from the City.
 
Community Bridge Meetings (PATF p. 41): As part of the Police Department's efforts to rebuild public trust and heal the rift between the Department and minority communities, Superintendent Johnson has lead community bridge meetings over the past few weeks to discuss community-police relations and ways to overcome long-standing cultural differences. Moving forward, Superintendent Johnson will continue to facilitate community bridge meetings across the city in the beginning of May.
Incomplete
Continuing to Invest in CIT Training (PATF pp. 120-122, 138): CPD's Crisis Intervention Training is a 40-hour certification on techniques to de-escalate confrontations with individuals in crisis, particularly people with mental illnesses. CPD will increase the number of officers fully certified in CIT by 50 percent by the end of 2016, and more than 30 percent of the department will be certified by the end of 2017. Going forward, all districts, on every watch, will be staffed by at least one CIT officer, and 911 dispatchers will have a current and updated roster of all CIT-certified officers on duty on a given watch. In addition, going forward, all field training officers and supervisory classes will be fully certified in CIT. Finally, CPD is developing a 2-day, scenario-based training for all officers in de-escalation techniques and recognizing and responding to mental health crises; all officers will receive that training by the end of the year.
 
Expanding the Use of Tasers (PATF p. 127): Since the start of the year, the number of Chicago Police officers who have been certified to use a Taser has quadrupled. More than 8,000 CPD officers have now been certified, and the Department is on track to have all officers responding to calls for service trained by June 1.
Restoring Accountability in the Chicago Police Department:
Implemented
Early Intervention System (PATF pp. 109-111): CPD is in the process of designing and developing an in-house, non-disciplinary early intervention system to provide additional training and supports for officers as needed.
 
Recording all interviews: Going forward, BIA will video record all of its investigatory interviews, consistent with CPD's current electronic recording policies for interviews in major felony cases.
 
Expanding Use of Body Cameras (PATF p. 141-142): This year CPD will expand its body-worn camera pilot to 7 police districts, covering more than a third of the City. Officers in those districts will be fully trained and using the cameras on a rolling basis between June 1st and August 1st. Last week the Superintendent, First Deputy Superintendent, Chief of Patrol, all Deputy Chief of Patrol, the Deputy Chief of CAPS and the Deputy Chief of the Training Academy were trained and given cameras, which they are now using.
Not Implemented
BIA mediation standards (PATF p. 83): CPD is developing a set of guidelines to structure and clarify the eligibility and process for mediation of disciplinary actions.
Incomplete
Discipline Guidelines (PATF p. 87): CPD is in the process of finalizing a discipline matrix that will bring a clear and fixed set of penalties for misconduct, taking into consideration mitigating and aggravating circumstances.
 
Collaboration to Improve and Enhance Misconduct Investigation (PATF p. 82): The Chicago Police Department, Independent Police Review Authority, and the Law Department have initiated a collaborative program to review officer discipline histories, patterns of alleged misconduct, civil settlements and judgments, citizen complaints and other data to focus resources, prioritize and open new misconduct investigations, and take disciplinary action against officers with histories of excessive force, where warranted.
 
Better training for investigators: BIA will require all of its investigators to complete the same training as detectives.
 
Concurrent Investigations (PATF p. 85): BIA and IPRA administrative investigations will now proceed concurrently with any state or federal criminal investigation absent an express and compelling request from a prosecuting authority.
 
Improving the quality of supervisory investigations (PATF p 84-85): BIA will now train designated sergeants by district and unit to conduct internal investigations in order to make them more efficient, fair and consistent.
 
Misconduct Hotline (PATF p. 77): BIA will create a third-party hotline for members of the Chicago Police Department to report misconduct.
 
Expediting internal investigations (PATF pp. 84-85): Going forward, the Department's Bureau of Internal Affairs (BIA) will expedite the process in which supervisors review disciplinary recommendations to make sure discipline is swift and certain. In the past, this review process could take months. Going forward, in severe cases, the review will be completed in 45 days, and review of less severe cases will be completed in 30 days.
Expanding Transparency:
Not Implemented
City to Issue Quarterly Progress Reports (PATF p. 45, 53): As part of the city's efforts to successfully implement these reforms and engage the public on this important work, officials will issue quarterly, written updates on the progress made to date.
incomplete
Implementing Chicago's Policy for Evidence Release in Police Involved Shootings (PATF pp. 133-136): In February, the Task Force on Police Accountability recommended a new City policy on the release of evidence, including videos, in police-involved shootings and other serious incidents. The Mayor embraced their recommendations, and six city departments have been working to collect relevant evidence and prepare for its release in the coming weeks.
Reforms to IPRA:
Implemented
Independent Auditing of IPRA's investigations (PATF p. 164): Fairley has secured an independent audit of a statistical sample of past investigations and is seeking authority to audit its work going forward.
 
Implement the Transparency Policy (PATF p. 164): IPRA has committed to implementing the new City policy on the release of evidence, including videos, in police-involved shootings and other serious incidents and has been working with other city agencies to prepare for its release in the coming weeks.
Incomplete
Community Outreach (PATF p. 164): Fairley and her staff have attended numerous community meetings are committed to forming a Community Board with broad representation.
 
Clarify criteria for affidavit override (PATF p. 164): State law and the collective bargaining agreement require complainants of police misconduct to sign sworn affidavits before IPRA or CPD can finish their investigations, though there are circumstances when the City can and should proceed with a disciplinary investigation even without an affidavit. IPRA posted draft rules on Friday, April 15 to clarify when the Chief Administrator will override the affidavit requirement. Criteria for override include the seriousness of the offense, the credibility of the complaint, and whether the alleged misconduct concerns the integrity of the officers involved.
 
Discipline Guidelines (PATF pp. 87, 164): IPRA, like CPD, is in the process of finalizing a discipline matrix that will bring a clear and fixed set of penalties for misconduct, taking into consideration mitigating and aggravating circumstances.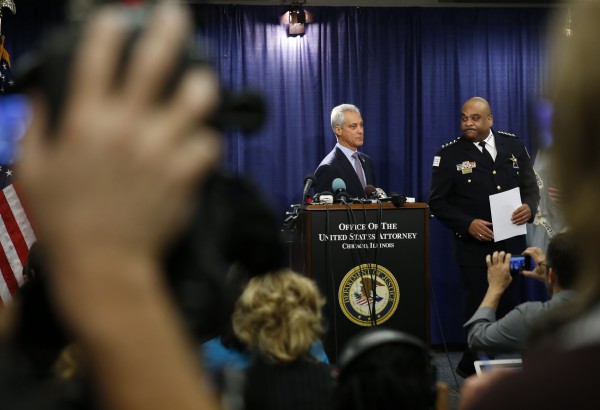 It's Been One Year Since Mayor Emanuel Put a "Down Payment" on Police Reform
For more on the city's police reform process One Year Later, see City Bureau editorial director Darryl Holliday's April 13 article in Chicago Magazine, "It's Been One Year Since Mayor Emanuel Put a "Down Payment" on Police Reform"—reported in collaboration with Timna Axel and Ryan Cortazar of the Police Accountability Collaborative.
About the Task Force Tracker
In many ways, the atmosphere in which Chicago's 2016 Police Accountability Task Force (PATF) report was released seems like a distinct moment from the present day. The names Rekia Boyd, Ronald Johnson, Laquan McDonald, La Quintonio LeGrier, Betty Jones and Philip Coleman had found a place in homes across the city due to string of high-profile, fatal encounters with police. Politicians, including Mayor Rahm Emanuel, made grand statements, morale within the Chicago Police Department plummeted, and the public waited for answers.
On April 13, 2016, the PATF report highlighted systemic and wide-ranging injustices within the Chicago Police Department that was followed up a week later by a press release from Mayor Rahm Emanuel's office stating that the city would "immediately implement nearly a third of the Police Accountability Task Force Recommendations."
That was a year ago today. Since then, groundwork laid by the PATF has paved the way for a January 2017 Department of Justice investigation into the Chicago Police Department—though it appears "very unlikely that a consent decree is going to come to Chicago," PATF chair Lori Lightfoot told WTTW reporters in April. When it comes to the city's "down payment" promise to implement PATF recommendations, civic leaders, experts, the Mayor's Office and former members of the PATF say results have been mixed—both successful and, in some cases, stalled in their entirety.
With a year of high-level action, reform and policy recommendations in mind, journalists at City Bureau and lawyers with the Police Accountability Collaborative have updated City Bureau and the Invisible Institute's Task Force Tracker to include a progress report — 1 year to the day after the PATF released its report.
We got the ball rolling with the Smart Chicago Collaborative last year—and updated the Task Force Tracker with City Bureau Documenters this year—but you can help us update it over time.
Have a question, comment or suggestion? Contact us at info@citybureau.org, on Facebook: /CityBureau and on Twitter: @citybureau #oneyearlater
NOTE: All 25 recommendations above are copied verbatim from the mayor's April 2016 press release. Annotations only include recommendations implemented within the scope of the mayor's press release. Although care has been taken to ensure the accuracy, completeness and reliability of the information provided, City Bureau, the Police Accountability Collaborative and the Invisible Institute assume no responsibility after publication. All readers are allowed (and encouraged) to post their own annotations. Reader submitted annotations are read by City Bureau but not moderated for content.